The Answer is Yes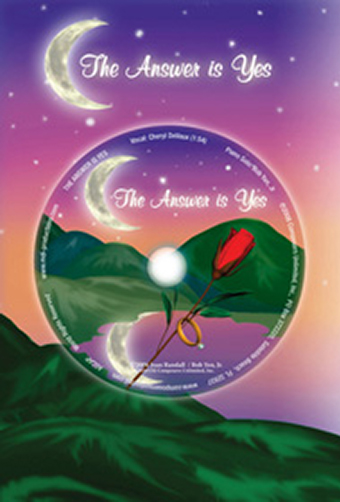 About the Song:
There are few moments in life more pivotal than the proposal of two people spending a lifetime as one. "The Answer is Yes" was written especially in honor of this joyful and memorable event. "The Answer is Yes" would be a loving response to a proposal as well as a very thoughtful gift for an engagement, anniversary, or wedding. Whatever the occasion, "The Answer is Yes" will be a touching reminder of this most passionate experience.
Behind the Scenes:
Cheryl DeVaux's impressive vocal portrays the wonder and joy experienced by a woman who is accepting a romantic proposal from her special someone. Cheryl's vocals range from single melodic lines to intricate layers of choral harmony. Bob Yen, Jr. accompanies Cheryl with a simple yet exceptional piano solo. A unique combination of blues and gospel, "The Answer is Yes" is musical artistry at its best.
The Art of the Music:
Recorded, mixed & mastered at MDI Productions, Plymouth, MA 02360, www.mdi-productions.com • Produced by Bob Yen, Jr. • Engineered by Bob Yen, Jr., Greg T. Smith, & Paul Mascott • Bob Yen, Jr.: background vocals, piano • Cheryl DeVaux: background vocals.
Cover Art/Graphics:
All original-hand drawn artwork and text layout by Infehnite Design, www.infehnitedesign.com of Kingston, MA 02364. • © 2008 CUI.* • © MMVIII • * Composers Unlimited, Inc.™
Printing/Publishing/Additional Info:
Printing: www.midlanticprinting.com • CD Manufacturer: www.nimbit.com • ASCAP • (p)2008 • Composers Unlimited, Inc.™, P.O. Box 372220, Satellite Beach, FL 32937 • World Rights Reserved • Made In USA.
Additional Postage Required:
Additional USPS First-class postage is required for mailing your CD Greeting Card to a recipient. Also please notify the Post Office that there is a CD included when mailing your CD Greeting Card to ensure proper handling.