Mon Cher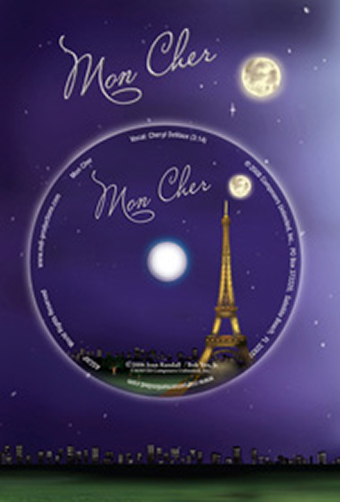 About The Song:
Gazing wistfully into space, she whispers softly, "Oh, Mon Cher, I think about you, since you held me in your arms and said you cared." Although he is miles away; he hears her words and remembers the joy of being with her. The distance between the couple disappears and they find themselves, merely a breath apart, in "The City Of Lights," Paris, France. There, under the golden glow of the Eiffel Tower in the starry, starry Paris night, the lovers are reunited.
Behind the Scenes:
Cheryl DeVaux's soft, lovely voice, accompanied by the simple melodic sounds of a Parisian street musician's accordion and subtle keyboard harmonies, captures the essence of yearning to be with a distant love. As you listen to "Mon Cher," let your imagination whisk you away to be with the one you adore in the romantic city of Paris.
The Art of the Music:
Recorded, mixed, & mastered at MDI Productions, Plymouth, MA 02360, www.mdi-productions.com • Produced by Bob Yen, Jr. • Engineered by Bob Yen, Jr. & Greg T. Smith • Bob Yen, Jr.: guitar, keyboards, accordion • Greg T. Smith: guitar, keyboards • Cheryl DeVaux: background vocals.
Cover Art/Graphics:
All original hand drawn artwork and text layout by Infehnite Design, www.infehnitedesign.com of Kingston, MA 02364 • © 2008 CUI.* • © MMVIII • Composers Unlimited, Inc.™
Printing/Publishing/Additional Info:
Printing: www.midlanticprinting.com • CD Manufacturer: www.nimbit.com • ASCAP • (p)2008 Composers Unlimited, Inc.™, P.O. Box 372220, Satellite Beach, FL 32937 • World Rights Reserved • Made In USA.
Additional Postage Required:
Additional USPS First-class postage is required for mailing your CD Greeting Card to a recipient. Also please notify the Post Office that there is a CD included when mailing your CD Greeting Card to ensure proper handling.