Envision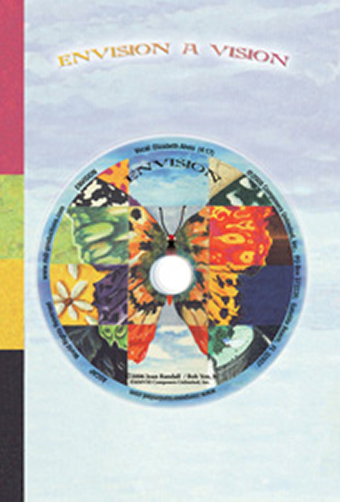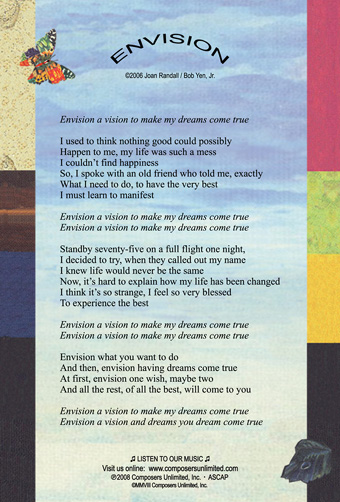 Definition of Envision:"Envision: Picture to oneself; imagine possible", as defined by The Free Dictionary by Farlex
About the Song:
The song, "Envision", was inspired by a series of flight delays and cancellations. While awaiting a connecting flight, passenger #75 on the "stand-by list" recalled a friend's suggestion to manifest what was needed in life. She envisioned herself boarding the next available flight. To her astonishment, she was the single passenger chosen for the only remaining flight of the day.
"Envision having dreams come true
And all the rest, of all the best will come to you"
Behind the Scenes:
Elizabeth Alves sings "Envision" with incredible strength and conviction. Elizabeth's versatile vocal ranges from a soft reflection of her life's challenges to a powerful confidence of her future aspirations. Accompanied by a lively "Techno-fused Contemporary Pop," the vocalist urges you to "Envision" your own vision to make your dreams come true.
The Art of the Music:
Recorded, mixed, & mastered at MDI Productions, Plymouth, MA 02360, www.mdi-productions.com • Produced by Bob Yen, Jr. • Engineered by Bob Yen, Jr. & Greg T. Smith • Bob Yen, Jr.: bass, keyboard, drums • Elizabeth Alves: background vocals.
Cover Art/Graphics:
Original artwork: Yellow House Studio, www.yellowhousestudio.com • © 1999 CUI* • Revised artwork and text layout by Infehnite Design www.infehnitedesign.com of Kingston, MA 02364. • © 2008 CUI* • © MMVIII • Composers Unlimited, Inc.™
Printing/Publishing/Additional Info:
Printing: www.midlanticprinting.com • CD Manufacturer: www.nimbit.com • ASCAP • (p)2008 Composers Unlimited, Inc.™, P.O. Box 372220, Satellite Beach, FL 32937 • World Rights Reserved • Made In USA.
Additional Postage Required:
Additional USPS First-class postage is required for mailing your CD Greeting Card to a recipient. Also please notify the Post Office that there is a CD included when mailing your CD Greeting Card to ensure proper handling.