Welcome Merchants
Thank you for visiting our website and for your interest in our product line…

Our CD Greeting Cards offer the innovative combination of contemporary
art and music for thoughtful gift giving and personal enjoyment.
~~~~~~~~
Eye-catching artwork on the greeting cards and CD's visually portrays the romantic, inspirational, or travel theme of the song on the CD.
Thoughtful Gift ~ Keepsake ~ Musical Memory
Each CD Greeting Card package includes: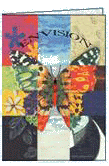 (1) Artistically-designed greeting card, size A-8 (7.75″ x 5.25″), glossy outside and matte inside.
(1) Professionally recorded, single-song CD of original, contemporary music with featured vocalist.
(1) Lyrics Card, size A-8 insert, enables your customers to fully visualize the theme of the CD Greeting Card and provides a "sing-along sheet".
(1) Envelope.
The CD is securely fastened to the left inside panel of the greeting card by a soft foam hub. A clear cellophane sleeve protects the CD Greeting Card package and allows fast, easy scanning. The suggested Retail Selling Price (USD) for each CD Greeting Card is: USA $9.95 ~ Canada $13.95.
Bonus: A Compilation CD with Sales Collage Card is Free with first order of one (1) complete set of nine (9) CD Greeting Cards. The Compilation CD with Sales Collage Card is for promotional use, only. It is Not For Resale, and is not available for purchase.
For more information about purchasing each CD Greeting Card and receiving the Compilation CD with Sales Collage Card, please contact us:
Or send us an Email
Organizations / Businesses / Special Events
Special pricing and custom printing available for large quantities and bulk orders.