Daytona Beach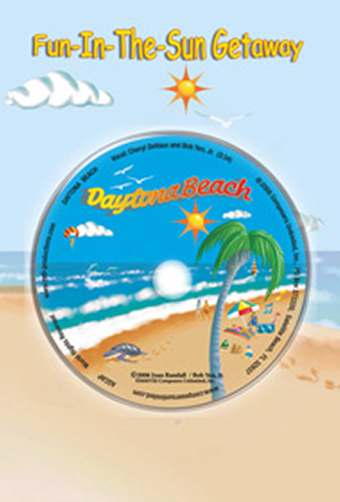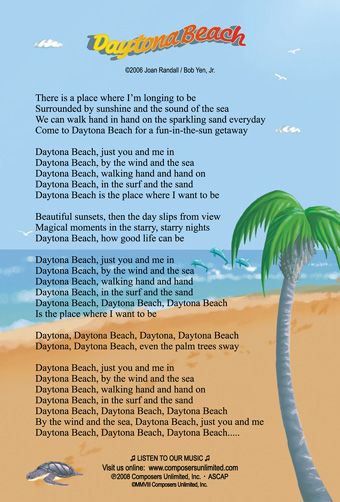 Location, Location, Location:
Daytona Beach is centrally located on the east coast of Florida. Daytona Beach is well known for its pleasant climate, miles of sparkling sand, bright blue skies, and breath-taking sunsets. It is no surprise that Daytona Beach is famous for its special events, such as "Bike Week", "Spring Break" and, of course, Daytona International Speedway's, "Daytona 500", and more.
About the Song:
A Song Is Born: Some songs come into this world as a result of a desire to express a heartfelt emotion. Some songs are carefully crafted to fit an occasion or to fulfill a purpose. Some songs are simply born, almost in an instant. Such was the case with "Daytona Beach." There was no pre-conceived plan, no purpose in mind. Only two people walking hand-in-hand on Daytona's sandy beach under bright blue skies, one late fall Florida day.
There, "surrounded by sunshine and the sound of the sea", the cadence of the couple's footsteps walking along on the "sparkling sand" became a beat with a musical tune. The tune was soon joined by words, expressing the experience, and the song, "Daytona Beach" was born.
Behind the Scenes:
The exuberant voices of vocalists, Cheryl DeVaux and Bob Yen, Jr., invite you to pack your bags and go on a "fun-in-the-sun-getaway" to Daytona Beach. Cheryl and Bob capture the fun times and magical, picturesque moments with shared enthusiasm. As you walk along the shore of Daytona's famous beach (or anywhere at all) while listening to this song, you will soon find the cadence of your footsteps keeping in time with the tune.
The Art of the Music:
Recorded, mixed, & mastered at MDI Productions, Plymouth, MA 02360, www.mdi-productions.com • Produced by Bob Yen, Jr. • Engineered by Bob Yen, Jr. • Gregg T. Smith, & Paul Mascott • Bob Yen, Jr.: background vocals, keyboard • Greg T. Smith: guitar, bass • Kim Dunning: drums • Cheryl DeVaux: background vocals .
Cover Art/Graphics:
All original hand-drawn artwork and text layout by Infehnite Design, www.infehnitedesign.com of Kingston, MA 02364 • © 2008 CUI.* • © MMVIII • *Composers Unlimited, Inc.™
Printing/Publishing/Additional Info:
Printing: www.midlanticprinting.com • CD Manufacturer: www.nimbit.com • ASCAP • (p)2008 Composers Unlimited, Inc.™, P.O. Box 372220, Satellite Beach, FL 32937 • World Rights Reserved • Made in USA • Unauthorized duplication is a violation of applicable laws.
Additional Postage Required:
Additional USPS First-class postage is required for mailing your CD Greeting Card to a recipient. Also please notify the Post Office that there is a CD included when mailing your CD Greeting Card to ensure proper handling.