So Grateful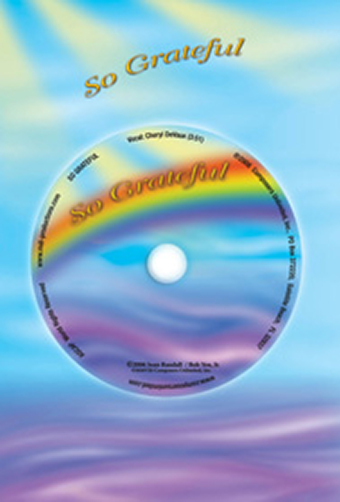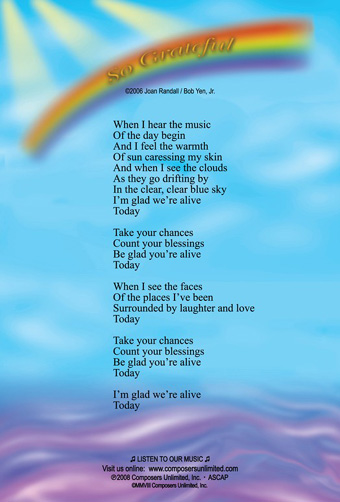 About The Song:
"So Grateful" is a celebration of the challenges we have conquered and a show of appreciation for the gifts we receive. Life is a journey and every journey has moments of trials and tribulations as well as victories. The song, 'So Grateful,' is a quintessential message of inspiration to overcome yesterday's challenges, graciously appreciate today, and courageously face tomorrow.
Behind the Scenes:
The distant roll of thunder signifies the passing storm. A beautiful rainbow appears, bringing a message of hope for the future. Enveloped by ethereal sounds, Cheryl DeVaux recalls the trials of her life with a hauntingly beautiful vocal. Then, with a striking fortitude, Cheryl encourages the listener to "Take your chances, count your blessings, be glad you're alive, today."
The Art of the Music:
Recorded, mixed, & mastered at MDI Productions, Plymouth, MA 02360, www.mdi-productions.com • Produced by Bob Yen, Jr. • Engineered by Bob Yen, Jr., Greg T. Smith, & Paul Mascott • Bob Yen, Jr.: guitars, bass, synthesizer, drums • Kevin Murphy: guitar • Cheryl DeVaux: background vocals.
Cover Art/Graphics:
All original hand-drawn artwork and text layout by Infehnite Design, www.infehnitedesign.com of Kingston, MA 02364 • © 2008 CUI* • © MMVIII • *Composers Unlimited, Inc.™
Printing/Publishing/Additional Info:
Printing: www.midlanticprinting.com • CD Manufacturer: www.nimbit.com • ASCAP • (p)2008 Composers Unlimited, Inc.™, P.O. Box 372220, Satellite Beach, FL 32937 • World Rights Reserved • Made In USA.
Additional Postage Required:
Additional USPS First-class postage is required for mailing your CD Greeting Card to a recipient. Also please notify the Post Office that there is a CD included when mailing your CD Greeting Card to ensure proper handling.