Another Day in City Square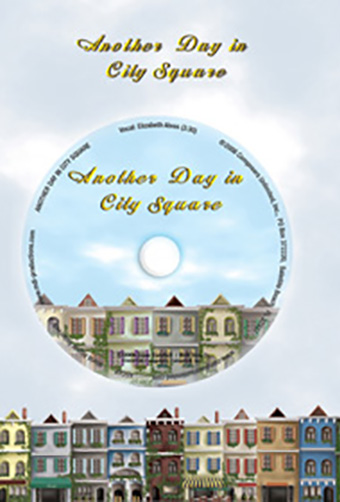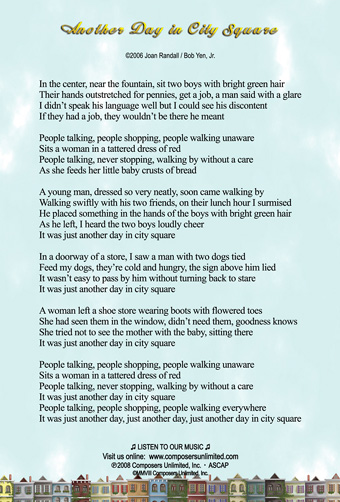 "City Square" Definition:
An open area, generally a pedestrian plaza, commonly found in the heart of a traditional town or city used for community gatherings. Being centrally located, city squares usually have a fountain, well, monument, or statue surrounded by small shops, as defined in Wikipedia, the Free Encyclopedia.
About the Song:
"Another Day in City Square" is a social commentary based upon observations taken from various city squares around the world. Preoccupied with daily life, people are unaware of the less fortunate. "Another Day In City Square" opens the door to a world of universal experiences in a British-rock musical style.
Behind the Scenes:
Vocalist Elizabeth Alves takes you on a tour of City Square. Elizabeth's beautiful and powerful voice, exquisitely coupled with a myriad of instrumentation, will sweep you away into the scene she describes. The haunting sound of the sitar, played by talented guitarist, Kevin Murphy, further helps to guide you to a place of international wonder.
The Art of the Music:
Recorded, mixed, & mastered at MDI Productions, Plymouth, MA 02360, www.mdi-productions.com • Produced by Bob Yen, Jr.• Engineered by Bob Yen, Jr. & Gregg T. Smith • Bob Yen, Jr.: background vocals, guitar, mandolin, keyboard, accordion, flute, drums, auxiliary percussion • Greg T. Smith: background vocals, guitar, bass • Kevin Murphy: guitar, sitar.
Sitar:
A stringed instrument of India; has a long neck and movable frets; has 6 or 7 metal strings for playing and usually 13 resonating strings, as defined in the Free Online Dictionary by Farlex.
Cover Art/Graphics:
All original hand-drawn artwork and text layout by Infehnite Design, www.infehnitedesign.com of Kingston, MA 02364 • © 2008 CUI* • © MMVIII • *Composers Unlimited, Inc.™
Printing/Publishing/Additional Info:
Printing: www.midlanticprinting.com • CD Manufacturer: www.nimbit.com • ASCAP • (p)2008 Composers Unlimited, Inc.™, P.O. Box 372220, Satellite Beach, FL 32937 • World Rights Reserved • Made in USA • Unauthorized duplication is a violation of applicable laws.
Additional Postage Required:
Additional USPS First-class postage is required for mailing your CD Greeting Card to a recipient. Also please notify the Post Office that there is a CD included when mailing your CD Greeting Card to ensure proper handling.