i dream of you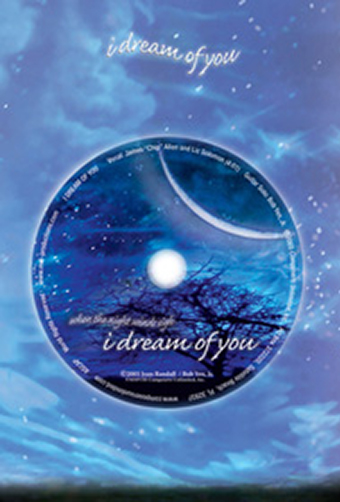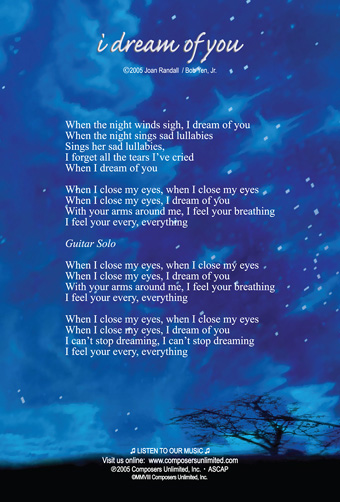 About The Song:
Our dreams keep us close to the ones we love, even when there are many miles between us. We dream of our memories of yesterday and our hopes for new tomorrows. "i dream of you," was written, especially, for those missing a loved one. Separated by circumstance from someone we love, our hearts search for ways to be reunited.
When the night winds sigh, close your eyes and let the magic of "i dream of you" transport you to the place where you will, once again, feel the heartbeat of your loved one.
Behind the Scenes:
James "Chip" Allen paints the portrait of longing with his rich, powerful voice. The perfect blending of Chip's voice with the distant echoing beauty of Liz Solomon's background vocal will enable you to visualize the distance between two hearts vanishing, crystallizing the moment in time that they are reunited in their dreams.
Every heart-felt stroke of Bob Yen Jr.'s, brilliant "dream" guitar performance speaks compassionately in the universal language of music. The intricate tapestry of the performances keeps you spellbound with its emotional intensity.
Release Debut:
"i dream of you" made its debut on Friday, September 9, 2005 at "The Home Front Hero Rally, A Tribute to Blue and Gold Star Families Benefit Event and Armed Services Expo" at Plymouth Memorial Hall, Plymouth, MA in a riveting live performance by featured vocalists, James "Chip" Allen and Liz Solomon.
In addition to the live performance, Composers Unlimited, Inc.™ also participated in the event by offering "i dream of you" CD's to Benefit attendees, who decorated and personalized each CD with messages of support and encouragement. The CD's were then included in "Care Packages" being assembled by various organizations at the Benefit and sent to our troops serving in Iraq, Afghanistan, and other far-off regions of the world. Composers Unlimited, Inc. was very grateful to have the opportunity to participate in the event and to make this contribution to support our troops so far away from home.
The Art of the Music:
Recorded, mixed, & mastered at MDI Productions, Plymouth, MA 02360, www.mdi-productions.com • Produced by Bob Yen, Jr. • Engineered by Bob Yen, Jr., Greg T. Smith, Paul Mascott • Bob Yen, Jr.: background vocals, guitar, keys, auxiliary percussion • Gregg T. Smith: guitar, drums • Ed McMenimon: bass.

Cover Art/Graphics:
Original artwork: Nimbit: www.nimbit.com • Revised artwork and text layout by Infehnite Design www.infehnitedesign.com of Kingston, MA 02364. • © 2008 CUI* • © MMVIII • Composers Unlimited, Inc.™
Printing/Publishing/Additional Info:
Printing: www.midlanticprinting.com • CD Manufacturer: www.nimbit.com • ASCAP • (p)2008 Composers Unlimited, Inc.™, P.O. Box 372220, Satellite Beach, FL 32937 • World Rights Reserved • Made In USA.

Additional Postage Required:
Additional USPS First-class postage is required for mailing your CD Greeting Card to a recipient. Also please notify the Post Office that there is a CD included when mailing your CD Greeting Card to ensure proper handling.